CONSULTATION
The osteopath will take a detailed case history including your contact details, presenting symptoms, past medical history, medication, family history and your lifestyle.
EXAMINATION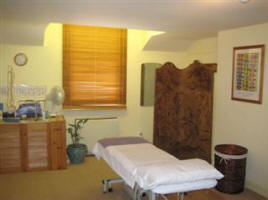 Following this the osteopath will ask you to undress to your underwear. If you are uncomfortable with undressing please wear loose clothing (t-shirts, shorts, jogging pants). We do have towels if you wish to be covered. The osteopath will then examine you standing still and will ask you to do some movements. Afterwards you will be examined lying on the couch. The osteopath will then explain your condition and estimate the number of treatments you will need.
TREATMENT
With your consent and if appropriate, the osteopath will do a short treatment in the first consultation to see how you react to treatment. Most people can feel sore and achey for the first 24 hours. You will then be told if it is necessary to return and the time scale in which to return (usually a week at first). If we feel your problem is not suitable for osteopathy, or you need further investigations, we will send you to your GP with a referral letter.
CHILDREN
Children under 16 need to be accompanied by an adult for the whole of the treatment. The same procedure as above applies to children with the help of the accompanying adult. Babies will need to be undressed to their nappy. It is useful if the adult can distract the child to keep them relatively still. We can provide toys or books, or you can bring a favourite toy.
OUR OSTEOPATHS ARE REGISTERED WITH MOST OF THE HEALTH INSURANCE COMPANIES. PLEASE REFER TO YOUR POLICY AND CHECK WITH YOUR PROVIDER.